Ya'll. This is worth your time. This is my very best friend. We have lived a lot of life together. We've been through good and bad, ups and downs and all the in betweens. She's been a constant source of encouragement in my journey through motherhood. A few months ago we met up at a park to let our children play and I was sharing with her about how overwhelmed I felt during this season, and how dry I felt spiritually. She offered up these words to me as the Lord had been revealing this to her heart during a similar season. It ministered to me so much that I asked her to write it down so that I could share it with some images I've taken of her family this past year. I hope it encourages your heart today to "press in" even in seasons that are filled with trials, sleepless nights, overwhelming joy and tears. I'm praying for you mama's that in these times, we press in to Him.
Crystal writes......
Some girls dream of the day they get to marry the man of their dreams and immediately start having babies. The first part was true for me. And while I knew I would become a mother someday, the latter was nowhere on my radar. I probably took 15 pregnancy tests the first few years of our marriage because I was TERRIFIED of getting pregnant. Alas, a few years went by, and God was drawing out a very intense desire in me to be a mom. When we welcomed our first son, Shepherd, I was hooked. So in love. I just knew God had called me to be a mom and raise my kids. So since He called me to do this, it was going to be easy right??
Our family has grown to a party of 6 these days. And while I have no idea what I am doing when it comes to tailoring these 4 sweet souls, God has been so good and gentle in giving me wisdom. This season of raising children is a tad bit hard at the moment. Okay, it's really hard. God took me out of the yuckiest, joyless mud pit several years ago, when He was guiding me through scripture about JOY. JOY was my banner raised high for years. Oh how my heart changed! Last summer, I could tell the Holy Spirit was leading my sail into a new season and some uncertain waters.
Life is hard. Period. We are not promised an easy life. We aren't used to having to get dirty in the trenches. So what do we do when we feel the storms are too big or trials unbearable.
We PRESS IN.
The Lord put those two words on my heart and I immediately went digging into scripture. He lead me to Mark 5: 24-29
24 And Jesus went with him; and much people followed him, and thronged him.
25 And a certain woman, which had an issue of blood twelve years,
26 And had suffered many things of many physicians, and had spent all that she had, and was nothing bettered, but rather grew worse,
27 When she had heard of Jesus, came in the press behind, and touched his garment.
28 For she said, If I may touch but his clothes, I shall be whole.
29 And straightway the fountain of her blood was dried up; and she felt in her body that she was healed of that plague.
My eyes would draw back to those words "came in the press behind."
Why did she come up BEHIND him? Why was there such a huge crowd around Jesus? How hard was it for her to get to Jesus?
So let me set the stage for you. Jesus was doing miracle after miracle. He had just healed a man that had been possessed by a legion of demons. Before that he had calmed a raging storm just by saying the words "Peace! Be still!"
Mark 4:41 "Who then is this, that even the wind and the sea obey him?"
Jesus steps off the boat and was surrounded by a crowd and immediately a ruler of the synagogue falls at His feet, begging Him to come to his home and heal his daughter who is sick to the point of death.
The original Greek definition for crowd here means "troops of people gathered together without order." I imagine total chaos. It's like a huge celebrity of our time in the midst of a crowd with NO body guards.
Also, the Greek definition for thronged means "to compress, to press hard upon all sides."
Jesus not only is surrounded by this large, out of order crowd. They are pressing in on him. Hard! On every side of Him. No doubt everyone was trying to touch him and tell him what miracle they needed him to perform. I can't imagine the desperation of this synagogue ruler as he was leading, almost dragging and pulling on Jesus in the direction of his home.
So then enters this "woman with a discharge of blood for 12 years"...
I gave a lot of thought about her. God had put her on my mind for days. Scripture tells us she had heard the reports about Jesus. Did she travel to see him? How far? We know she had to do some type of travel since she had been ostracized from the community to an area where ceremonially and socially "unclean" people were.
In Levitus 15 it tells us that when it was a "woman's time of the month" per se, she was considered ceremonially unclean. You could not be touched by anyone during your uncleanliness for 7 days! Yikes! All your clothes, linens and everything you had sat on had to be washed. If anyone, DID touch you, even on accident, they were considered unclean for an entire day and had to wash all thier clothes and go take a bath. Which, for those days, was a big deal to have to do all that. No washer and dryers!
There were also "extra man made laws" that society had made her do. She had to be divorced from her husband, she couldn't live in her home, and she was shunned from all her friends and family. TWELVE years of this no less. The sad part, it wasn't anything she could help. And God knows she tried over and over and over to find a cure.
Mark 5: 26
"and who had suffered much under many physicians, and had spent all that she had, and was no better but rather grew worse."
Breaks my heart.
NO HUMAN TOUCH FOR 12 YEARS. I can't imagine the hopelessness and loneliness she must have felt.
I see her waking up and getting out of her "unclean" bed and putting on her "unclean" clothes and walking out of her "unclean" community, and thinking, "maybe, just maybe this Jesus guy will heal me and I won't have to come back here EVER." Off she went, head and face covered.
I wish I had a picture of her seeing Jesus for the first time. She saw Him and instantly knew He was worth the risk. Risking the possibility of death. She knew she would have to TOUCH all those people in the crowd to get to Him. "What if they see me? What if they find out I am ceremonially unclean and realize all they have to do to be considered clean again? They'll kill me!" Times were much different in those days. The crowd could have very well taken matters into their own hands.
But she risked it all to get to Jesus.
Verse 27 tells us she came in "from behind." I meditated on this part of the verse for a while. I'm sure she thought," I can't let Him see me. I'll just touch the bottom of his robe and be on my way." We don't know how she got through the crowd. But I had such a vivid picture of her taking a deep breath, covering herself and head up really good one last time, and getting on the dirty ground and crawling her way through the crowd.
Getting stepped on. Getting hurt. Getting dirty.
Then…she stretches her arm and fingers out as painful as it would have been, and HE ANSWERED. She risked all. She fought. She believed. She PRESSED IN.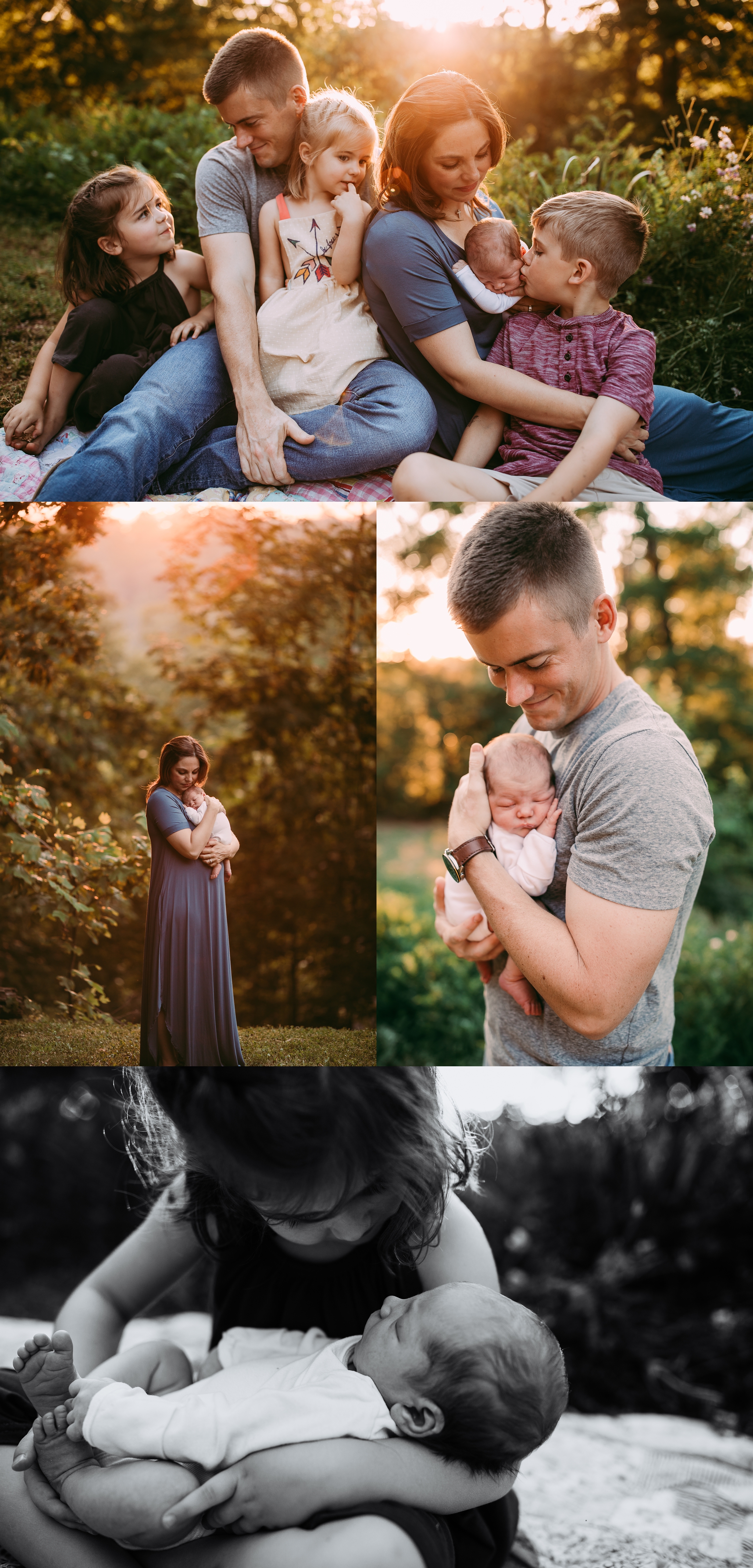 So here I am, sometimes feeling like I'm blindly navigating my way through mothering. Homeschooling. Wife-ing. But God is teaching me that if I PRESS IN, He will answer. He heals my soul of despair. He calms my anxious heart. Listen Mama. There will be times God will call you to do something that seems totally impossible. It will LOOK impossible. You might get dirty. It will take RISK. I'm not sure what that is for you. For me, its raising my children in HIM and continuing to serve others, my husband, and handle the trials and storms that come sweeping in from time to time. So this is me. This is where I am. Feeling the need to PRESS IN to Him, no matter what it takes. Sometimes it won't be easy. Sometimes it's messy, and painful and exhausting, but keep reaching out to Him. Take heart mamas, PRESS IN to our sweet Jesus and He will ANSWER and He will give you rest.